All American Tennis Club, Las Vegas, Nevada
Tennis Lessons, Tennis Clinics, Tennis Tournaments, Tennis Camps, Junior Tennis, Adult Tennis, Tennis Store, Racquet Stringing, for all your Tennis Las Vegas needs
---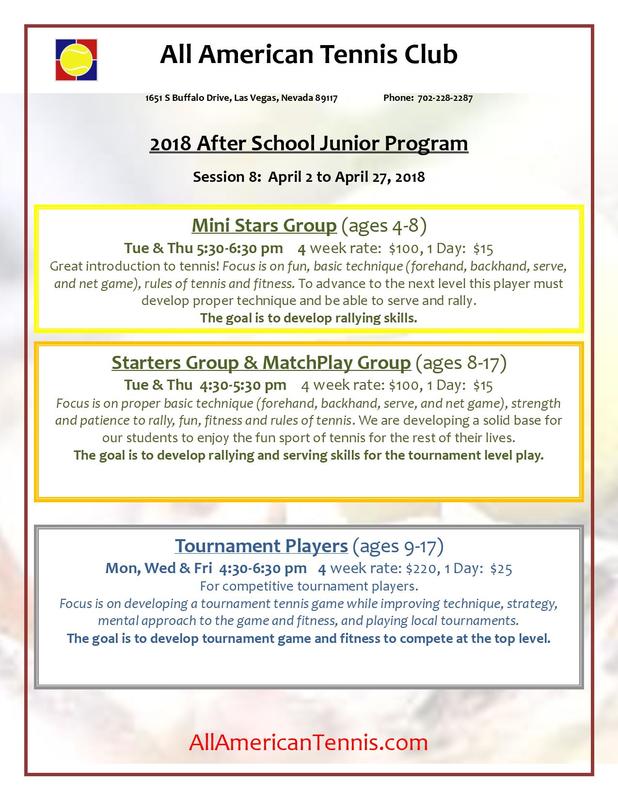 ---
WOW. What a great event on last Sunday.
4 coaches (Dan Maccanello, Crombie Hatfield, Owen Hambrook, Misha Yevtich)
23 players - 5.0, 4.5, 4.0. Food and drinks donated by USTA Nevada.
LOTS OF GREAT ENERGY.
Brandon, Roque, Johnny, Phil, Dan, Brittney, Jacquie, Dave, Dusan, Nevin, Kevin, Dion, Hilliary, KC, Joaquin, Hillary, Rob, Stacey, Kace, Igor, Scott
Chrissy, Owen, Devin, Crombie, Misha
We will have to do it again!!!
​Click HERE to see it on Facebook!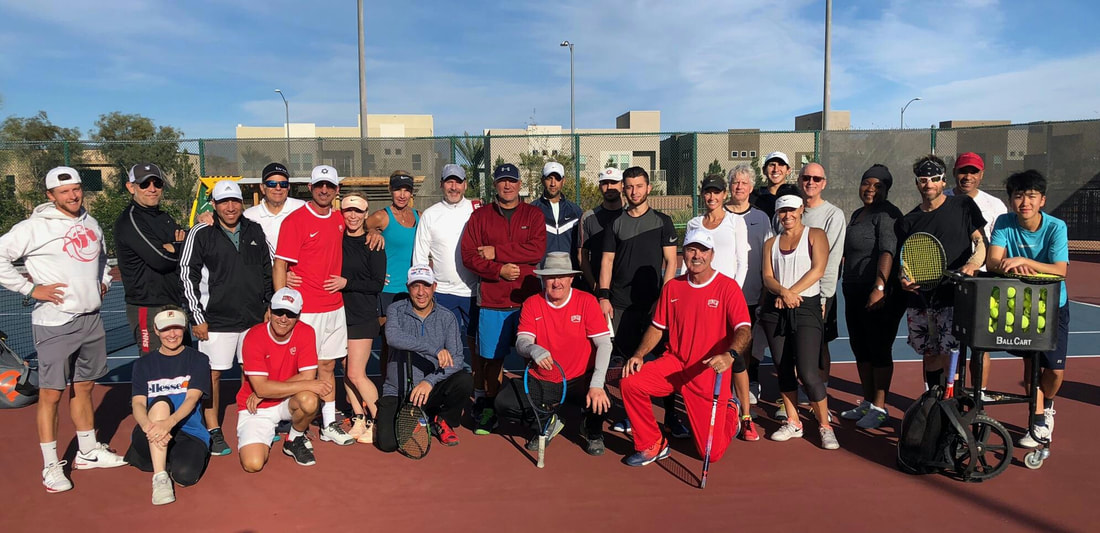 ---
---
---
---
RACQUET STRINGING
48 hrs turnaround: $15 with your own string or $15 plus string cost ($7.99 - $19.99 plus tax).
24 hrs rushed job: extra $5 (Super rushed job: extra tip for the stringer).

---
We sell both Head MXG 3 and MXG 5 rackets! The MXG 3(10.4 oz/ 100 sq in) and MXG 5(9.7 oz/105 sq in) is for players trying to up their game. With their new technology, these rackets are apart of the next generation. Come in to experience the ultimate power under control with our MXG 3 and MXG 5 demos.

---
---
---
---
---
Map to:
All American Tennis Club
1651 S. Buffalo Drive
Las Vegas, NV 89117
call or text (702) 228 - 2287
We are located at the
All American Park, near Summerlin, Las Vegas, Nevada

Congratulations to our Singles Challenge Ladder Playoff Tournament Champions!

Jeff Wilbanks #8 Champion
Chris Gaynor-Yevtich #7 Champion
Greg Farina #6 Champion
Jon Gitt #5 Champion
Jeff Wilbanks #4 Champion
Chris Gaynor-Yevtich #3 Champion
Jeff Wilbanks #2 Champion
Jeff Wilbanks #1 Champion
---
---